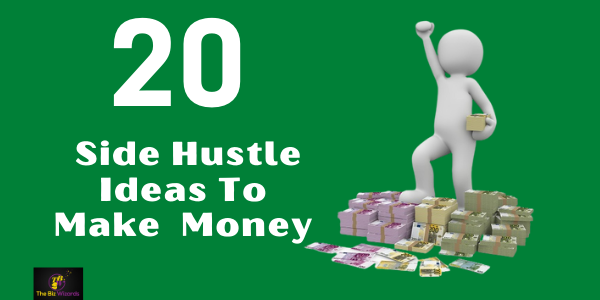 03 Dec

20 Side Hustle Ideas To Make Money in 2022

 Whether you want to make some extra money on the side, pay off debt, or even retire early, there are plenty of side hustles that can fit your lifestyle.

You don't need a degree, special skills, or training. This article will direct you toward the skills and training you need in order to get a steady stream of income.
Side hustle ideas
With the help of real income reports and real people who did side hustle ideas, this is a must-read list of 20 side hustle ideas that range from quick-hit moneymakers to longer-term streams of income that turn into careers.
1.  Online freelancing
As freelance work becomes more popular, more people are hiring freelancers to get that extra help they need. You can enjoy the benefits of freelancing by picking that niche you love and getting started! Write blogs for hire, become a digital translator for sites that require translating services, edit documents, business proposals, resumes, tweets, product reviews, blog posts, graphic design, or web design…
There are plenty of opportunities online to earn very good money by doing something you enjoy! Here's a great guide on how to apply for a job online and start freelancing!
2.  Teaching online
The beauty of creating your own online course (and selling it to the public) is that the topic you choose is up to you—it's completely yours. The possibilities are endless!
You get paid to teach something that you're passionate about, and students learn from an expert in the field. What could be better?
3.  Sell stock photos
There are a few different ways you can make some extra cash if you're the creative type. You can sell your photos or services on sites like iStockPhoto or Dreamstime to make extra money.
If your digital images don't sell well in the stock photo market, you could also try offering them to online art sites where they'll also be used for advertising and marketing campaigns.
4.  Sell crafts on Etsy
Do you have a knack for arts and crafts? Do you have a knack for coming up with great card ideas just in time to send out for birthdays, holidays, or other special occasions? If so, you could open a shop on Etsy to sell your handmade products. It's easy to set up a shop on Etsy, and once it is set up, you get access to tons of ideas about how to run your online business.
5.  Sell on eBay
Once you get on eBay, you can find your own collectibles to sell on the site. If you buy stuff on clearance, give it a good cleaning, take some great pics, and write up an attractive title for it, you'll be able to resell it for way more than what the original owner paid for it at some store.
You can sell anything, from collectibles and antiques, old sports cards, vintage movie posters, old records, clothes, and much more.
6.  Sell on Amazon
When it comes to side hustle ideas, making money off your old stuff is classic.
Out-of-date books, CDs, and DVDs… With sites like Amazon or CreateSpace, you can create an easy-to-fill-out listing for your used items, and generate extra income. The effectiveness of this method depends on how much you have to sell.
7.  Become an influencer on social media
Build a "personal brand." You could focus on your cooking, drawing skills, fitness routine, DIY projects, or positive attitude. That's what makes an influencer. Choose something interesting about yourself and build a following around it. You can start a side hustle with Instagram, Twitter, and Facebook. Being an influencer can bring you a surprisingly great income.
8.  Social media management
Social media is massive now. Some companies barely use it at all, but they all need it. They don't have time to manage social media accounts because they are busy with their main products which is why you should be here to help them out by managing their social media accounts for them.
9.  Write a book and sell it online
If you are good with words, try your hand at writing an ebook? With Amazon's KDP program, anyone can become a productive self-published author in just a few short steps. In fact, once you've written a good quality ebook and published it on Amazon, you can literally sit back and watch the money roll in.
10.  Become a host on Airbnb
Airbnb has revolutionized hospitality worldwide by making renting homes for a short period of time easy and affordable. If you already own a house or apartment and have extra rooms, consider renting out that space on Airbnb and enjoy the extra cash flow! Get started with opening an account on Airbnb and follow their terms of service.
11.  Pet sitting
If you love pets, pet sitting is a great opportunity to take care of animals and potentially make extra money as a side hustle. How much you can earn as a pet sitter will vary depending on the type of sitting you want to do. Pets need attention, and this is another great opportunity to make some extra money.
12.  Groceries delivery
You can do a side-hustle delivering groceries via Instacart. Most people do it as a way to fill up their extra time and make some extra cash. But if you have big transportation needs—or you need a part-time job—delivering groceries with Instacart can provide you with an income.
13.  Housekeeping
Housekeeping is always an option simply because it's reliable and always one of the things people want to be done. As an online business, you can reach so many people, especially if you start to build a brand with your name out there.
You can list your services on a site like HouseKeeper and many others to promote yourself.
14.  Babysitting 
In today's fast-paced, society, more and more families are in need of childcare help. And you can be that helping hand. You'll find a variety of jobs from babysitting to part-time nanny jobs on sites like Care or SitterCity. Start turning your side hustle idea into reality.
15.  Catering
Need some extra income? A great way to earn it is by serving at parties! Catering companies are always looking for extra help on Friday and Saturday nights, so they typically post these gigs on Craigslist. If you have any catering experience, even just waiting tables, you can jump right into the job!
16.  Handyman 
You're very handy with tools, or you've got a knack for carpentry? If so, side hustles as a handyman is a great way to earn some extra cash. Be honest about your skills, and offer fair prices. You can make an arrangement with a contractor – you give him an hour or two, he pays you in cash, or cuts you a deal on future work.
17.  Personal trainer
Turn your knowledge of fitness to an advantage by making money with your side hustle! We all know the importance of working out – but sometimes find it difficult to stick to it. If you're passionate about fitness and nutrition, why not help others develop healthy habits, and make some extra money.
18.  Modeling 
Maybe you've got the looks, maybe you've got the walk, but do you have that extra something that really shines? If so, modeling is a way to make extra money and study or work at the same time.
For good-looking people who want to use their assets to make money, modeling is an excellent choice.
19.  Local tour guide
Being a tour guide can be a fun and easy side hustle and bring you extra income. If you live in a vacation destination that offers tourists spectacular natural wonders, hiking tours or rich history, all you really need to do is decide what tour you'd like to run. You could pick up your tourists at their place, or meet them at the bus stop at the beginning of the tour.
20.  Donate plasma
Plasma donating is one of the quickest ways to make some side income! If you are in good health or you are in a position to donate your plasma twice a week, there are many clinics that will pay you for donating your plasma if you meet their medical criteria.
Start hustling!
Side hustle ideas are an essential part of starting a business on the side.
The goal of this article is to inspire you to find your own side hustle, whether you're looking for a way to add to your salary or add a few hundred extra dollars a month.
Ready to Start Your Side Hustle? We Can Help!
Start your side hustle today with this FREE ebook!
About our Guest Author:
Viktor Ilijev owner of www.bbdirector.com is a landscaper turned GM then VA ending as a creative strategist and business owner, Viktor is one of those hustlers that keeps on grinding no matter what the circumstances. Since he was 17 years old, he wanted to run his own business but he had no idea about digital marketing. He started off as an account exec in an ad company, moved to become a sales exec in a video production company, then became the GM. He needed to learn lead gen, cold calls and content marketing so he spent the next few years grinding as a VA in all those three positions. At the same time, funneling the know how into his own businesses BB Director and Viktori.co which have been his full time jobs for the last 4 years.  
Besides that, Viktor loves burgers, kickboxing, hiking, fishing and skiing. Sometimes even reads a book or two.