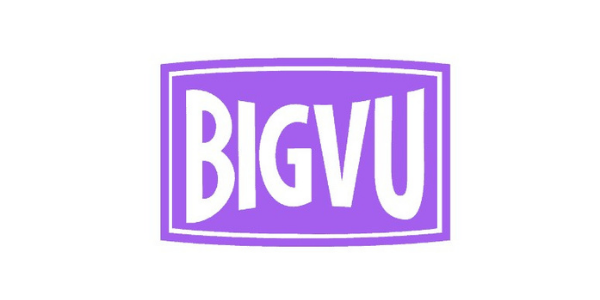 16 Apr

Bigvu Review: Not just a teleprompter App
Bigvu; not just a teleprompter; video creation and editing too!
If you are new to creating videos – welcome to a fun and creative new skill that you're learning.  Once you have your script done for your videos, you have a choice – memorize the script or use a teleprompter.  I don't know how good your memory is, but mine is just not good.  So when I started creating videos, I had to use a teleprompter. 
When you choose to use a teleprompter, what you'll find is that most apps are either a teleprompter or a video creation app.  There are actually only a few (that I found searching Google) apps that offer both, and of these few, I chose Bigvu.  The good news is that I made the right choice! 
Bigvu teleprompter and video creation features are incredibly easy to use and their price fits perfectly with a side hustler's small budget!  I've done the legwork for you and I'm very confident that Bigvu is your teleprompter and video creation answer!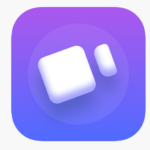 BIGVU in the big picture is an application that allows you to easily make videos while reading your script.  Bigvu is an online video creation platform intended to help people create short, interactive social or business videos. It allows individual and small size video developers to shoot and post videos on all possible social media platforms.
It creates a variety of video contents such as marketing videos, sales pitches, news, social posts, training videos and online tutorials. Pocket-sized television studio including a teleprompter and a virtual studio that offers integration of social media and stunning graphics, enabling users to easily produce videos with a complete toolset to capture video, modify it, compose new video sequences including video presentations, interviews, photos, video shots, tweets, and titling, streaming the video and sending video produced to 3rd party platforms.
Key features include teleprompter, auto-captions, style video, composer, video trimmer, share, replace green screen, video landing page, collections, and more. Users can also make videos by selecting the posts from their social networks and the app will produce a video at the end with the visual effects. BIGVU automatically renders videos in multiple aspect ratios and video formats to support different mobile screens and platforms. You don't need any special skills – just hit record and read your script!
Video production with just a smartphone.
The size and speed of text can be changed freely.
Let's you add caption text to your videos.
Simple video editing with just a smartphone.
You can upload your videos directly to social networking sites.
Free plans exist.
Affordable, great for new side hustlers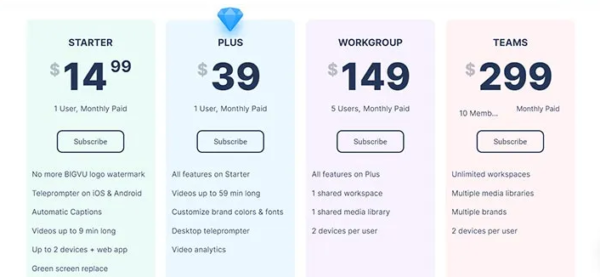 The BIGVU app has four paid plans depending on how much (or little) you'll use it:
$14.99/mo. for the Starter Plan
$39/mo. for the Plus Plan.
$149/mo. for the Workgroup Plan
$299/mo. for the Team plan
Discount available when paid annually
Additionally, although not advertised prominently, Bigvu offers a free plan.  You can try the free plan before actually choosing a paid plan. You can use the free plan as much as you want. However, with the free plan, the BIGVU logo watermark will appear on the videos you shoot, and your maximum video length is 4 minutes.   If you want to remove the watermark, and record longer videos,  you'll need to upgrade to the Starter Plan.
The Starter package at $14.99/mo. or $89/yr. removes the logo and adds music, backgrounds, and titling.
The Plus Plan allows even longer videos, brand customization, and analytics for $39/mo. or $139/yr.
The Workgroup plan includes up to 5 users on a shared workspace and other advanced features. It is $149/mo. or $499/yr.
The Team plan expands to 10 users for $299/mo. or $999/yr.
There is a significant discount for paying annually.
If you go for the Starter plan, the Bigvu logo will be removed and the music, background and title features will be added. It also increases the maximum length of your videos from 4 minutes to 9 minutes.  This plan is enough for most video producers, Youtubers and creators, and honestly, it's the plan I use now!
You can choose to pay every month or every 6 months. You can get a significant discount by paying in bulk.
Plus allows you to shoot longer videos, up to 59 minutes, and adds more brand customization and video analytics.
BIGVU is an easy-to-use and affordable teleprompter application for even novice video creators.
No expensive camera equipment, just a smartphone, and you can easily read the instructions and shoot video without stress.
Give it a try and install the app for free and try it first. You can easily install the app on your iOS or Android device.  You can install the software from the App Store for iOS or Google Play for android.
Ready to Start Your Side Hustle? We Can Help!